Quality Assurance System
Distribution/Sales
The quality and traceability of the products manufactured at our plants are maintained until the time our customers purchase and eat them.
Distribution/Sales Concept
Morinaga Milk stations personnel responsible for quality management at every product storage/distribution base and sales warehouse to confirm that quality is properly controlled in the logistics phase.
The quality rules stipulated to maintain and manage quality in the distribution phase require strict temperature management for products, maintenance and management of warehouses, management of cargo handling and transportation for products, and instructions and education for the employees and parties involved in the distribution phases.
[Examples of instructions for product storage and transportation]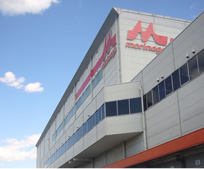 We think of the departments that transport and deliver our products as the "final runners" in the race to supply manufactured goods to the customer. In this conviction, our Logistics Department promotes various initiatives to improve logistics quality management in cooperation with logistics partner companies.
The department checks compliance with the "Management standard of distributed products" and facilities at all logistics bases, extracts points to be improved, and improves them in collaboration with the Quality Assurance Department and Manufacturing Department every year.
The department regularly holds joint meetings and study sessions with logistics partner companies.
TopicWe Listen to Every Customer Opinion – An Alliance Focused on Using Customer Opinions to Improve –
Morinaga Milk receives about 200 opinions from its customers every day. Instead of merely collecting them, we promptly share those valuable opinions within the related internal parties and strive to make use of them to improve our products and services. For that purpose, we accumulate our customers' comments in our in-house "Heartline" database for analysis. At the personnel meetings mainly at our Consumer Service Department and departments handling R&D, manufacturing, sales, and quality management, we review the opinions of customers, hold repeated discussions on solving and improving problems in product areas, and confirm the status of progress. We think of this as our "alliance focused on using customer opinions to improve." We continue to make many improvements in our containers and packaging, indications on products, and so through this process of customer feedback review. We understand that we can make great progress as a manufacturer by listening to the opinions of our customers with the utmost attention.