Quality Assurance System
Product Development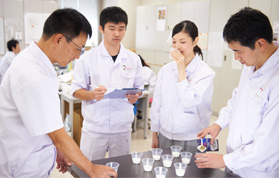 We consider safety from the phase of research and place top priority on securing the quality and safety of products in the product planning phase. Every time we develop new materials and products, we review the design quality of the products to ensure their quality and safety.
R&D Mission
Our main theme is to explore the great power of milk and make maximum use of its advantages.
We pursue value in terms of "taste,""nutrition,""health,"and"safety & reliability" and apply that value in various products that contribute to the health and joyful living of people.
We promote R&D activities to create new products and innovate new technologies for the future.