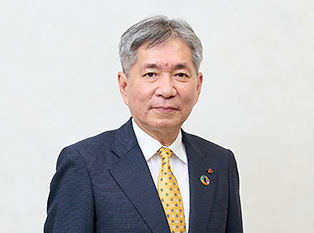 We want to make a continuing contribution to the realization of an enriched society that inspires smiles everywhere.
Michio Miyahara,
President and Representative Director
Morinaga Milk Industry celebrated its 100th anniversary in 2017. We have formulated a new group philosophy in honor of this centennial milestone.

When we asked ourselves what we operated our business for, the answer came as a single word: "smiles." The word "smiles" expresses what we want to bring to society by providing unique new values in the form of "deliciousness" and "health functionality." The smiles we think of are nothing momentary or fleeting, but the lifelong smiles that come from healthy and happy living. We aspire to bring smiles to our customers spontaneously through happy daily eating habits and joyful times with their families. Our corporate slogan expresses this aspiration.
Contribute to healthy and enjoyable lifestyles through offering unique products derived from advanced milk technology.
With "milk" as the starting point at our founding, we have developed various technologies to produce products of many types over the last century. We will continue to apply our powers not only to dairy products, but to a growing range of other products and services. We hope to support the mental and physical health of our customers by delivering unique values in the form of "deliciousness" and "health functionality." We shape our corporate activities with a view to creating an enriched society that inspires smiles everywhere, where people all over the world can live happily all through their lives.
This is not a philosophy devised solely by the management, but a "Co-Creation of Aspirations Philosophy" created with the participation of all members of our organization and through employee questionnaires. All of the people in our company share a common vision of the future we want to realize.
In our second century, to create a society in which people can enjoy happiness and fulfillment, the Morinaga Milk Industry group will continue to contribute to society by improving and delivering its unique values.