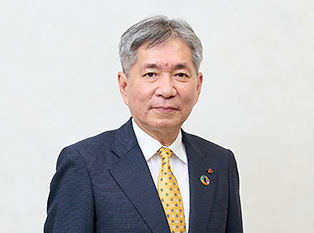 We want to make a continuing contribution to the realization of an enriched society that inspires smiles everywhere.
Yohichi Ohnuki
President and Representative Director
Since its establishment in 1917 as Nippon Rennyu Co., Ltd., Morinaga Milk has engaged in business with the support of its stakeholders. The Morinaga Milk Group presently handles and promotes a wide range of products including milk, beverages, yogurt, ice cream, and cheese as well as infant formula, nutritional supplement foods, liquid foods, and more. With familiar products that support the daily lives of everyone from newborns and growing children to working adults and elderly people, we contribute to our customers' physical and mental health and help them lead happy lives in an effort to realize a boundlessly joyful, prosperous society.

In 2017, to mark the Morinaga Milk Group's 100th year in business, Group management and employees worked together to devise a new Group philosophy and adopt "For Ever Brighter Smiles" as our new corporate slogan. Our philosophy and slogan are imbued with our desire to create the kinds of smiles that naturally occur in abundance in our daily life and when we are at our most comfortable with family and close friends.
Since the onset of the COVID-19 pandemic in 2020, we have had to change our behavior and our very perception of normal throughout the situations we face in everyday life.
This has only heightened our desire to use our business activities to create as many smiles and as much comfort as possible for each and every one of our customers. We are committed to continuing to deliver familiar, reliable products for our customers' health and well-being.
Morinaga Milk Group 10‐year Vision
Vision1:A company that balances "delicious and pleasurable food" with "health and nutrition"
Vision2:A global company that exerts a unique presence worldwide
Vision3:A company that persistently helps make social sustainability a realityersistently
We are working to achieve sustainable growth and further improve corporate value on the strength of the Morinaga Milk Group's 10-year Vision, in which we set out three definitions of the company we aim to be: a company that balances "delicious and pleasurable food" with "health and nutrition," a global company that exerts a unique presence worldwide, and a company that persistently helps to make social sustainability a reality.
I have been appointed to serve as President and Representative Director in the midst of a challenging business environment. Our employees and I aim to make Morinaga Milk a company that uses its distinctive functional ingredients and technology to help our customers and contribute to the world in all aspects of health and nutrition. We at the Morinaga Milk Group intend to continue innovating and pioneering "For Ever Brighter Smiles" of all our stakeholders. We are appreciative of your unwavering understanding and support.