Message from Management to Investors
To Our Shareholders and Stakeholders
We are sincerely grateful for the shareholders and stakeholders who support us every day. We would like to take this opportunity to announce that we have established a long term vision that looks ahead to the next ten years as well as a new Medium Term Business Plan. Under these guidelines, we aim to achieve sustainable growth for the Morinaga Milk Group with advanced milk technology.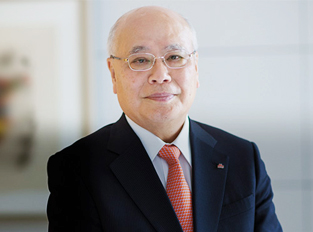 Long term vision that clarifies future direction
Morinaga Milk's corporate philosophy is to "contribute to healthy and enjoyable lifestyles through offering unique products derived from advanced milk technology."
Based on this, we have set three long term visions and targets and clarified our future direction.

Vision 1
A company that balances "delicious and pleasurable food" with "health and nutrition"
Vision 2
A global company that exerts a unique presence worldwide
Vision 3
A company that persistently helps make social sustainability a reality


Operating profit margin  At least 7%
ROE           At least 10%
Ratio of overseas sales  At least 15%

The previous Medium Term Business Plan in hindsight
In our previous Medium Term Business Plan, we reorganized our business domains in the face of the low profit levels that we saw as a problem, clarified the businesses that would generate stable revenue and the businesses for future growth, while also working to improve asset efficiency and streamline operations. As a result, we achieved a revenue structure able to consistently ensure that we met our targets of operating income over 20 billion yen and ROE at the 8% level. At the same time, the business environment has changed significantly since the plan was established, and new issues have emerged. Given further changes in the future, we believe that it is more realistic to move on with the next Medium Term Business Plan, and for this reason we established and launched our new plan one year ahead of schedule.
Key points in new Medium Term Business Plan
The new Medium Term Business Plan is a three-year plan that ends in the fiscal year ending March 2022. We aim to reinforce ties between businesses with cross-cutting relationships between the four pillars of business (B-to-C business, wellness business, B-to-B business, overseas business). Specifically, we aim to optimize collaboration between businesses and product categories with cross functionality, rather than simply using bifidobacterium longum BB536, lactoferrin, peptides MKPR, and other Morinaga Milk functional ingredients in their respective business areas and product categories.
ESG
As a company that has made becoming a "company that persistently helps make social sustainability a reality" part of its long term vision, we see addressing ESG as one of our most important issues. While incorporating the SDG approach, we have established seven priority issues to tackle in the supply chain overall, and have set KPI (key performance indicators) to resolve issues. We will be working to achieve these KPI.
Increase in shareholder value
In order to meet the expectations of our shareholders and stakeholders, the Medium Term Business Plan clarifies our goal of reinforcing capital policy. We believe shareholder returns are the most important part of our capital policy, and have increased dividends every year since the fiscal year ended March 2017. In our new plan, we aim for a target payout ratio of 20% while maintaining the balance between growth investments and financial stability.


We ask for your continuing support as we take up the challenge of creating value going forward.