Message from management to investors
To Our Shareholders and Stakeholders
Morinaga Milk Group is strengthening its business foundation in various ways to reinforce its earning capacity and achieve its management plan based on sustainable growth.
We ask for your support going forward as in 2017, the Group celebrates the one hundredth anniversary of its founding, beginning its next one hundred years.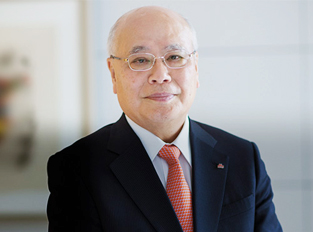 Record-high income in fiscal 2016
During the fiscal year that ended in March 2017, Morinaga Milk's mainstay products, and particularly yogurt, ice cream, and cheese, were solid performers due to a growing awareness about health in the food sector. In addition, hit products such as the Shield Lactobacillus, in the Functional and Food Ingredients business (B-to-B business), contributed to earnings.
As a result, consolidated sales fell 1.5% over the previous fiscal year to 592.6 billion yen, operating income rose 47.4% to 21.1 billion yen, ordinary income increased 46.8% to 22.0 billion yen and profit attributable to owners of parent was up 24.8% to 13.2 billion yen in the fiscal year ended in March 2017.
When excluding the negative impact of the transfer of a consolidated subsidiary's household frozen wholesale business from sales, sales rose 0.9%. Income reached a record high, thanks to improved product mix and efforts to boost profitability with low-cost operations.
Steady implementation of growth strategy and plans specific to businesses
In the five-year medium-term business plan ending in the fiscal year ending in March 2020, we will shift to a business structure with strong earning potential. In the fiscal year ended in March 2017, the second year of this plan, we continued to concentrate management resources on highly profitable businesses and products, and strived to instill cost-return awareness.
In light of progress thus far toward the goals of the medium-term business plan, for the fiscal year ending in March 2019, the fourth year of the plan, we are targeting sales of 620 billion yen and an operating income of 22.5 billion yen. We hope to achieve the income target ahead of schedule by the fourth year through continuing to implement our growth strategies and plans tailored to individual businesses.
For Ever Brighter Smiles
As we reach the milestone of the one hundredth anniversary of our founding, we established a new corporate philosophy to clarify our corporate spirit and approach for the next 100 years. The corporate slogan "For Ever Brighter Smiles" and the corporate philosophy of "Contribute to healthy and enjoyable lifestyles through offering unique products derived from advanced milk technology" reflects the Group's corporate philosophy as well as our vision for ourselves, and thus we call this our corporate mission.
We hope to provide stakeholders with value that makes them smile, and create an environment in which all of us at the Morinaga Milk Group always work with smiles on our faces. This is the hope that drives our corporate mission.
Increases in revenue growth and shareholder value are still just halfway to our goal. We will continue seeking further development.
Countries all over the world face the same issues of declining birth rates, aging populations, and creating a healthy, long-living society. We believe that it is our responsibility as a company to help resolve these social issues, and that our mission is to achieve sustainable growth while enhancing corporate value. I hope you will look forward to Morinaga Milk Group's future growth.